Benefits
Non-plating, organic EP / Anti-wear additives
Contains polymer additives
Water-resistant
Superior rust & corrosion protection
Biodegradable
Specifications
Base Materials: Complex / Synthetic & Vegetable Oils
Certifications: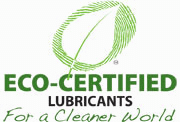 Eco-Certified
Environmental Rating: UK CEFAS OCNS Group E
MIL-G-18458B-SH
EU certification/registrations:
– Norway – Yellow
– Netherlands & UK: E
– Denmark PR#: 2324093
Service Rating: -10°F to 450°F | -23°C to 232°C
Description
A premium, state-of-the-art, multipurpose complex grease thickening with a blend of synthetic and vegetable oils selected to provide the level of biodegradation required to meet the Norwegian Yellow and the combined UK and Netherlands E categories. The non-plating, organic EP/antiwear additives allow ALCO-EP ECF to be used where tolerances are low and/or speeds are high. ALCO-EP ECF also contains polymer additives, further enhancing the inherent water resistance of complex based grease. It is extremely resistant to rust and corrosion.